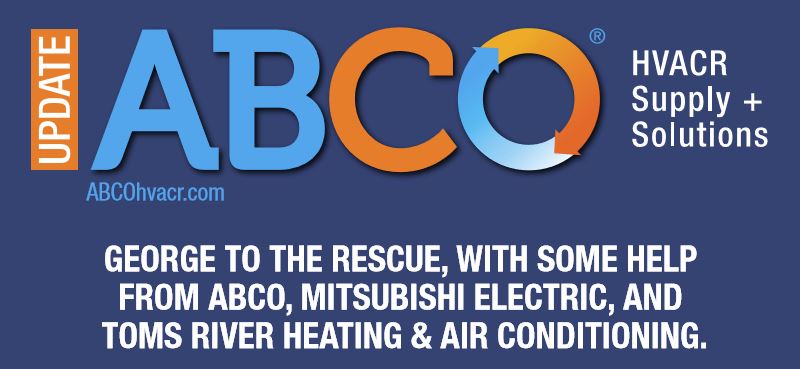 When Sergeant George "Tyler" McGibbon of Toms River, NJ returned home in 2017, the wounded warrior was welcomed with open arms. To help him transition back to civilian life, a squad of friends, family, contractors, decorators and veterans support groups went into action – including the team at Mitsubishi Electric, ABCO, and Toms River Heating & Air – to customize a home living space for him.
Renowned actor Gary Sinise set the project in motion with his RISE program which provides injured veterans with specially customized smart home makeovers. They teamed with George To The Rescue, the hit NBC TV show that undertakes home makeovers for people in need.
Soon after, the garage in the McGibbon family home had been transformed into a new living space with full bed, bath and living room customized for Sgt. McGibbon. Stylish, roomy and functional, it's an all-new place to call home as he continues therapy and readjusts to daily life.
Maximizing limited home space. Jason Wong of ABCO's Lakewood, NJ branch spoke to the versatility of Mitsubishi Electric's ductless equipment. "It lets us tailor HVAC systems to meet specific needs of individual customers. That's what we did for Sgt. McGibbon." The job called for a heating and cooling solution that didn't take up a lot of space and provided year round comfort, durability and energy efficiency.
Out of sight comfort from above. Mitsubishi Electric MXZ-C One-Way Ceiling Cassette Heat Pump
The indoor Mitsubishi MLZ one-way ceiling cassette heat pump was installed in the bedroom and living areas.
The units are compact and fit snugly between standard ceiling joists and are ideal for retrofit and new construction.
Sleek design easy mounting
A variety of speeds and capacities
Sync with wifi kumo cloud app for remote control
Quiet operation reducing distracting noise
Washable antibacterial and deodorizing filters that capture & neutralize bacteria, pollen, and other airborne allergens
Accessible from bottom, no access panel is required
For even more convenience, the units are sync'ed up with the kumo cloud wifi system. "Our ductless system was a logical choice for this project in which a small space was skillfully turned into a new fully-outfitted, roomy and comfortable apartment for Sgt. McGibbon," said Tim Rabel of Mitsubishi Electric.
Catch the whole story . Now you can meet the family, the friends, the fire fighters and town officials who pitched in to make the project a success. Because George to the rescue chronicled it from beginning to end and will broadcast it on NBC TV on October 27, 2018. Tune in and learn all the details of this story of courage, coming home and inspiration.